ChainFORM
Ken Nakagaki, Artem Dementyev, Sean Follmer, Joseph A. Paradiso, Hiroshi Ishii

We present ChainFORM: a linear, modular, actuated hardware system as a novel type of shape changing interface. Using rich sensing and actuation capability, this modular hardware system allows users to construct and customize a wide range of interactive applications. Modules are equipped with rich input and output capability: touch detection on multiple surfaces, angular detection, visual output, and motor actuation. Each module includes a servo motor wrapped with a flexible circuit board with an embedded microcontroller.
Leveraging the modular functionality, we introduce novel interaction capability with shape changing interfaces, such as rearranging the shape/configuration and attaching to passive objects and bodies. This project intends to expand the design space for interaction with actuated curve interface in
LineFORM
using advanced hardware design.

Credits:
Ken Nakagaki*, Artem Dementyev**, Sean Follmer***, Joseph A. Paradiso**, Hiroshi Ishii*
MIT Media Lab, *Tangible Media Group, **Responsive Environment Group
***Stanford University
Hardware Support:
Kyle Joba-Woodruff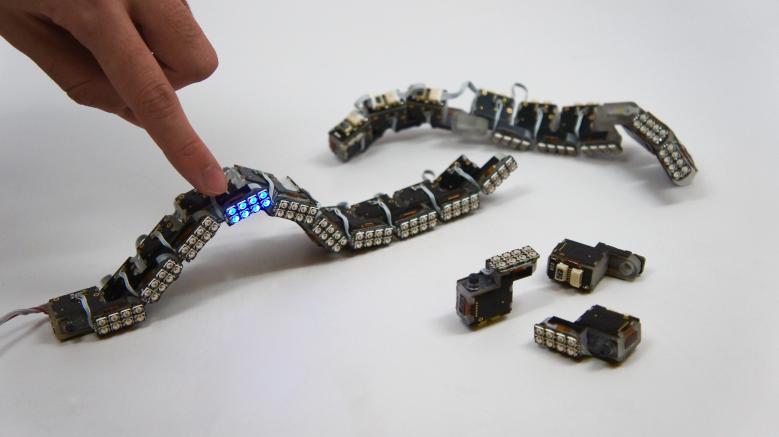 Papers